To celebrate the 4th of July we got a few fireworks for the boys this year. They were SO excited but didn't even really know what to expect. We did the fireworks on the evening of the 3rd. While we waited for it to get dark the boys ran around catching fireflies.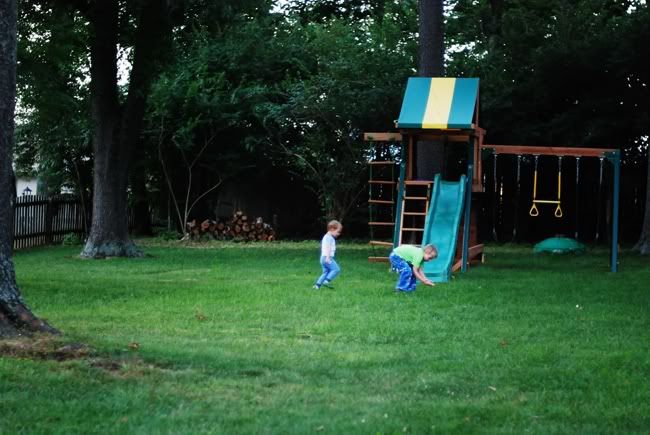 They started off with some "snap-its" and loved the noise they made when they threw them at the ground.




Time for the "big" stuff:)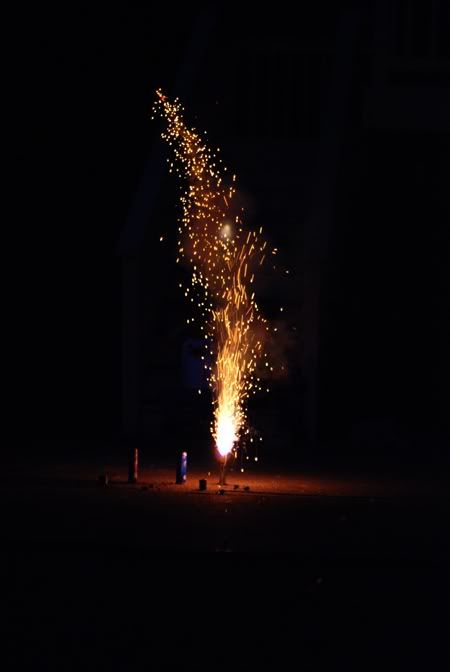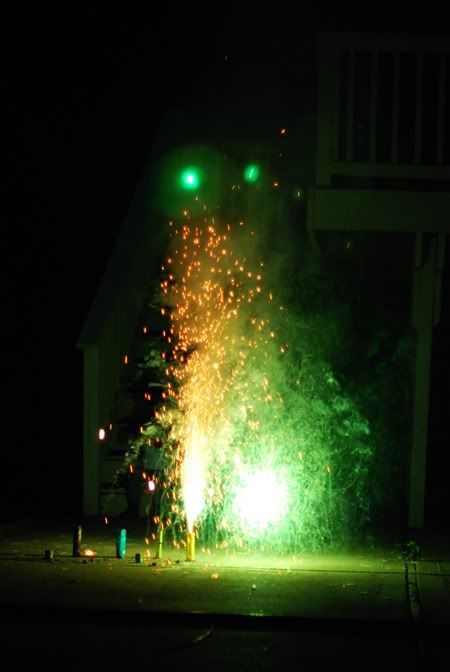 On the 4th we were invited to a cookout and fireworks at our friend's house. In addition to fresh berries and jalapeno poppers (similiar recipe here), I made a Chocolate Chip Cookie Cake. It was festive and good:)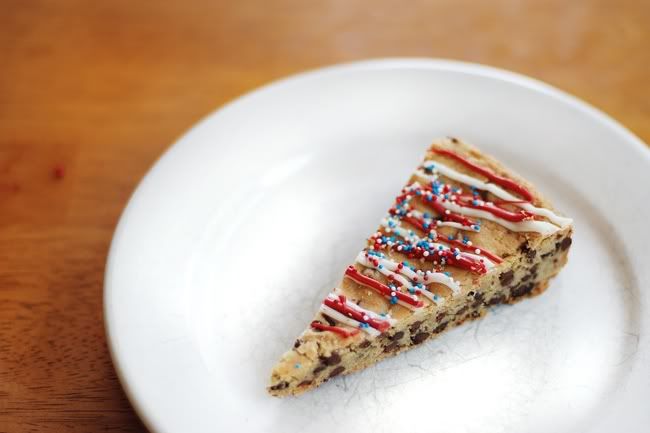 Chocolate Chip Cookie Cake
1 cup All-purpose Flour
1-½ teaspoon Baking Powder
¼ teaspoons Salt
1 stick Butter
1 cup Light Brown Sugar
1 teaspoon Vanilla Extract
½ teaspoons Almond Extract
1 whole Egg
1-¼ cup Semi-Sweet Chocolate Chips
Preheat the oven to 350 F.

Combine the flour, baking powder and salt together in a medium bowl and set aside. Using a stand mixer fitted with the paddle attachment, cream the butter, light brown sugar, and extracts on medium speed until well combined. Stop the mixer, scrape down the sides combined. Stop the mixer, scrape down the sides of the bowl, and add the egg. Blend on medium speed for 30 seconds. Add the dry ingredients and combine on low speed until just combined. Add the chocolate chips and mix until combined.

Put the batter into a greased and floured 10-inch round cake pan. Smooth the batter into an even layer and bake until lightly golden and puffy around the edges (the center should still feel quite soft), 18 – 22 minutes. Cool for 4 hours before cutting. Store in a cake carrier or simply wrap the cake pan in cellophane.

I pretty much made the recipe as is except maybe added a few more chocolate chips...I used the mini ones and baked it my springform pan and it came out of the pan perfectly!

We had a very nice holiday weekend!