I have been wanting to post this recipe for some time now. Look at these!




They are so good! Trust me...I'm pregnant!
I got the recipe from Tasty Kitchen.

Chocolate Chip Cookie Dough Brownies

•2 cups Butter, Divided
•¾ cups Unsweetened Cocoa Powder
•2-¾ cups Granulated White Sugar, Divided
•1 cup Packed Light Brown Sugar
•3-¼ cups All-purpose Flour, Divided
•3 whole Eggs
•½ teaspoons Salt
•½ teaspoons Baking Powder
•4 Tablespoons Milk
•3 teaspoons Vanilla Extract, Divided
•2-½ cups Mini Semi-sweet Chocolate Chips, Divided
•1 Tablespoon Shortening, Such As Crisco

For Brownies:

1 c. butter
3/4 c. unsweetened cocoa powder
2 1/4 c. granulated sugar
1/2 tsp. salt
3 eggs
1 tsp. vanilla extract
1 1/4 c. all-purpose flour
1/2 tsp. baking powder
1/2 c. mini semi-sweet chocolate chips

Prepare 13X13 baking pan by laying a piece of foil in the bottom and up the sides. Spray with cooking spray or butter the foil.

Melt 2 sticks of butter in a medium saucepan; add cocoa, stirring until smooth. Remove from heat and cool slightly. Add sugar, salt, eggs, and vanilla; beat with a spoon until combined. Add flour and baking powder; mix well. Stir in chocolate chips. Spread batter into pan. Bake at 350 degrees for 25 minutes. (I always remove my brownies from the oven when a toothpick inserted 1 inch from the side of the pan comes out clean or almost clean.) Allow brownies to cool completely before moving on to the next step.

For Cookie Dough Filling:

1 c. butter, softened
1 c. packed light brown sugar
1/2 c. granulated sugar
4 Tbsp. milk
2 tsp. vanilla extract
2 c. all-purpose flour
1 c. mini semi-sweet chocolate chips

Combine first 5 ingredients in a mixing bowl and cream together. Add flour and stir until combined. Stir in chocolate chips. Spread in an even layer on top of cooled brownies. Chill before adding chocolate glaze.

For Chocolate Glaze:

1 c. semi-sweet chocolate chips
1 Tbsp. Crisco shortening

Melt chocolate with shortening and stir until smooth. Spread over chilled cookie dough layer.

When I made these the second time, I skipped the foil part and just buttered the baking dish with perfect results. I made these as written, but did the chocolate glaze layer a little differently. I made a ganache by meting the chocolate chips with enough cream to get it to spreading/pouring consistency. Anyway, they really rich but good!

A couple of weeks ago we stopped to get donuts after church.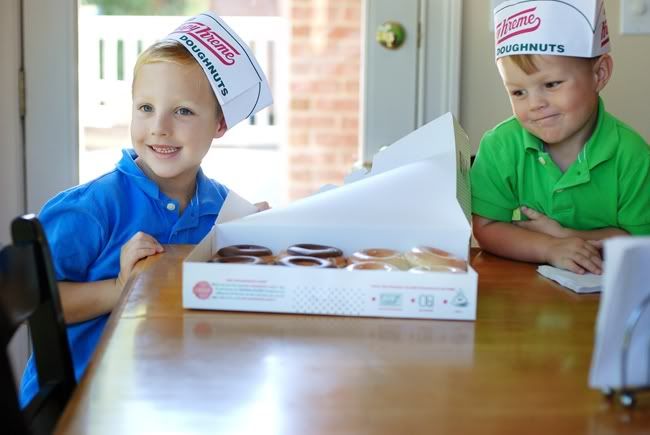 We really wanted donuts from Spaldings...a fantastic hole in the wall, non-chain donut shop, but the line was out the door when we drove past. Instead we got Krispy Kreme and their "HOT" sign was on and they sucked us into getting a dozen instead of just 6.

Grubby little hands were all over them!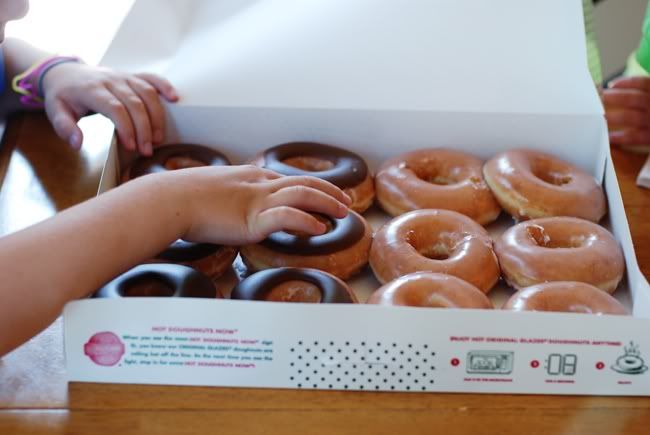 Warm donuts....yum!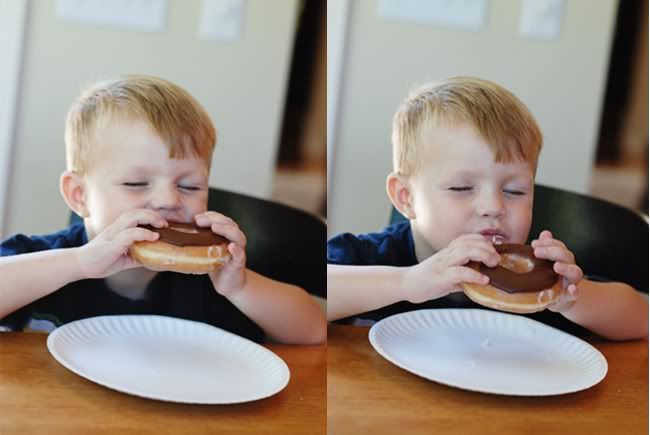 Apparently, they were close your eyes good!