I have been on a bit of a brownie kick here lately. It all started last Sunday when the boys and I found 2 new brownie recipes to make.... technically, it started when my friend brought along some fantastic chocolate chip cookie/brownie bars with fudge ganache last Friday for a little play date. (You can find that recipe here...thanks Denisha!!)

The first recipe we made was for these babies from Martha Stewart.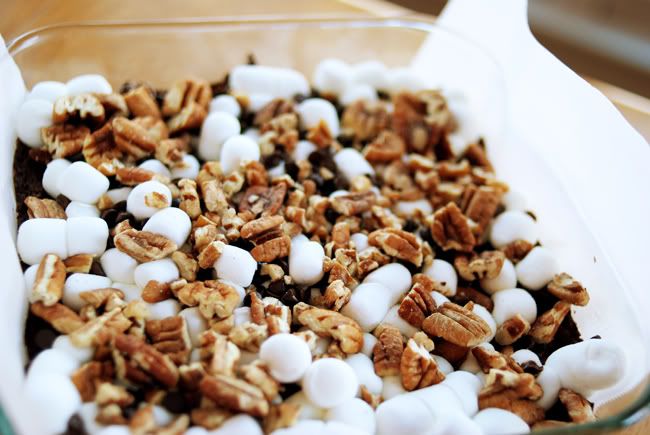 Rocky Road Brownies

1/2 cup (1 stick) unsalted butter, cut into pieces, plus more for pan
1 bag (12 ounces) semisweet chocolate chips
1/2 cup granulated sugar
1/2 cup packed light-brown sugar
1/2 teaspoon salt
2 large eggs
3/4 cup all-purpose flour (spooned and leveled)
1 cup miniature marshmallows
1/2 cup chopped nuts, such as cashews, pecans, or walnuts

1.Preheat oven to 350 degrees. Butter an 8-inch-square baking pan. Line bottom with parchment paper, leaving an overhang on two sides; butter paper.
2.In a heatproof bowl set over (not in) a saucepan of simmering water, combine butter and 1 cup chocolate chips. Heat, stirring occasionally, just until melted, 3 to 5 minutes.
3.Remove mixture from heat; stir in sugars and salt, then eggs, and finally flour, stirring just until combined. Spread batter evenly in prepared pan. Bake until a toothpick inserted in center comes out with moist crumbs attached, 30 to 35 minutes.
4.Remove from oven, and sprinkle with remaining chocolate chips, then marshmallows and nuts. Bake until chocolate is shiny and marshmallows are puffed, about 5 minutes. Cool completely in pan. Using paper overhang, lift cake onto a work surface; cut into 16 squares.

They were very good although I made a small error and didn't thoroughly read the instructions and added the whole bag of chocolate chips instead of a cup! I had to break out another bag to use on top! Ooops. They were dense and fudgey....probably due to the additional chocolate chips!

The second recipe we made was for something called Brownie Pudding. This was from the Tasty Kitchen site. This is a vintage recipe.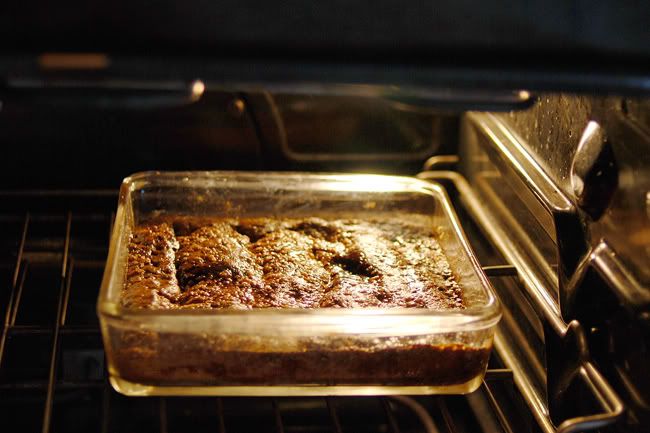 Brownie Pudding
½ cups Flour
1 teaspoon Baking Powder
⅓ cups Granulated Sugar
1 teaspoon Salt
3 Tablespoons Cocoa, Divided
¼ cups Milk
1 Tablespoon Melted Butter
½ teaspoons Vanilla
¼ packages Crushed Walnuts (optional)
½ cups Brown Sugar
•¾ cups Boiling Water

Mix flour, baking powder, granulated sugar, salt, and one tablespoon cocoa. Then add the milk, butter, and vanilla. Mix until smooth, add nuts (reserve some for sprinkling), and pour into the greased baking dish. Mix the brown sugar and the remaining two tablespoons of cocoa together then sprinkle over the batter. Also sprinkle a little bit of nuts over it, and then pour the boiling water over the top.
Bake at 350F for thirty to forty minutes, then cool before serving

After you pour the hot water on them...



After baking.



This recipe was certainly interesting and a bit odd in preparation but Steve really liked them. He liked them more than I did. I used about 1/3 cup of pecans that I chopped in the food processor. They contributed to an "oatmeal" type texture and the brownies tasted really salty to me. If I make these again, I would definitely cut down on the salt to maybe 1/4 to 1/2 tsp. They have hardly any butter and no eggs but they were very moist. They did lack they full flavor, fudgy texture of their counterparts but certainly would do in a pinch!

On Wednesday evening I made my go to recipe for homemade brownies to take to a friend's house on Thursday. I topped them with mini marshmallows, Valentine plain m&m's and mini chocolate chips and stuck them back in the oven for a few minutes to puff the marshmallows. They were so festive and cute!! Regrettably, I didn't get any pictures. Here is the recipe:

Hershey's Best Brownies

1/2 cup (1 stick) butter or margarine, melted
1 cup sugar
1 teaspoon vanilla extract
2 eggs
1/2 cup all-purpose flour
1/3 cup HERSHEY'S Cocoa
1/4 teaspoon baking powder
1/4 teaspoon salt
1/2 cup chopped nuts(optional)

1. Heat oven to 350°F. Grease 9-inch square baking pan.

2. Stir together butter, sugar and vanilla in bowl. Add eggs; beat well with spoon. Stir together flour, cocoa, baking powder and salt; gradually add to egg mixture, beating until well blended. Stir in nuts, if desired. Spread batter evenly in prepared pan.

3. Bake 20 to 25 minutes or until brownies begin to pull away from sides of pan. Cool completely in pan on wire rack.

If I have some chocolate chips on hand, I almost always throw some in the batter for an extra chocolate boost. Also, I really watch them closely as to not over bake so they are moist and fudgy.

The 4th and final recipe I made last night when we had some friends over for beef and shrimp fajitas. In sticking with the Mexican theme I found a recipe for Dulce de Leche Brownies and just had to make them!!

Look at these!!! The caramel didn't melt into the brownie but rather made little caramel pockets throughout.




Dulce de Leche Brownies

8 tablespoons (115g) salted or unsalted butter, cut into pieces
6 ounces (170g) bittersweet or semisweet chocolate, finely chopped
1/4 cup (25g) unsweetened Dutch-process cocoa powder
3 large eggs
1 cup (200g) sugar
1 teaspoon vanilla extract
1 cup (140g) flour
optional: 1 cup (100 g) toasted pecans or walnuts, coarsely chopped
1 cup Dulce de Leche (or Cajeta)

Preheat the oven to 350 degrees (175 C).

Line a 8-inch (20 cm) square pan with a long sheet of aluminum foil that covers the bottom and reaches up the sides. If it doesn't reach all the way up and over all four sides, cross another sheet of foil over it, making a large cross with edges that overhang the sides. Grease the bottom and sides of the foil with a bit of butter or non-stick spray.

Melt the butter in a medium saucepan. Add the chocolate pieces and stir constantly over very low heat until the chocolate is melted. Remove from heat and whisk in the cocoa powder until smooth. Add in the eggs one at a time, then stir in the sugar, vanilla, then the flour. Mix in the nuts, if using.

Scrape half of the batter into the prepared pan. Here comes the fun part.
Drop one-third of the Dulce de Leche, evenly spaced, over the brownie batter, then drag a knife through to swirl it slightly. Spread the remaining brownie batter over, then drop spoonfuls of the remaining Dulce de Leche in dollops over the top of the brownie batter. Use a knife to swirl the Dulce de Leche slightly.

Bake for 35 to 45 minutes. The brownies are done when the center feels just-slightly firm. Remove from the oven and cool completely.

I used Ghiradelli semi sweet chips and made my own Dulce de Leche by gently boiling an unopened can of sweetened condensed milk (label removed) for 3 hours on the stove. I checked it often to be sure that the water stayed high enough to come to the top of the can. Cool completely and then open the can. Inside you will find a delicious caramel. I have heard that it can explode if you let the pan boil dry. If you think this sounds risky....just try it, the brownies are totally worth it. Refrigerate any leftover caramel, or simply eat the remainder with a spoon!! This is definitely up there with my favorite brownie recipe!