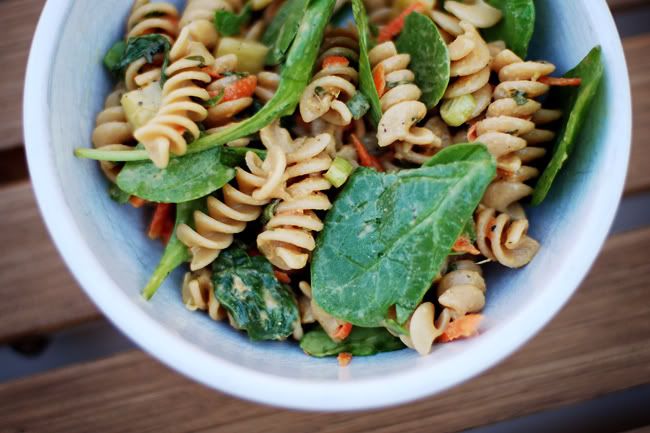 This pasta is sooo good. My friend Hillery served this as part of the "Mommy Food" at the awesome Halloween party that she hosted and was kind enough to pass the recipe on to me too! She added chicken and spinach to it when she served it and had even made a special batch just for me that did not have chicken in it (due to my allergy). How thoughtful is that???

Thai Pasta Salad

2 cups uncooked pasta
1/4 c. cider vinegar
2 TB. sugar
3 TB. creamy peanut butter
2 TB. soy sauce
1 TB. fresh ginger, minced
2 cloves garlic, minced
1 small cucumber, seeded and chopped
2 medium carrots, coarsely shredded (1 cup)
4 green onions, sliced
1 c. fresh cilantro, chopped

Cook, drain, and rinse pasta. Meanwhile, in small bowl, combine vinegar, sugar peanut butter, soy sauce, ginger, and garlic. Beat with whisk until well blended. In a large bowl, combine cooked pasta, cucumber, carrots, and green onions. Mix gently. Pour dressing over pasta mixture and toss gently to coat.

** I added about 3 cooked chicken breasts, doubled the pasta (actually, I think I just used the whole box) and added 2 cups of fresh baby spinach and doubled the amount of dressing.

My hubby preferred it warm and it reheated great the next day. You may need to add just a bit of water if the pasta seems a little dry.

Loved it and can't wait to make it again!